Quick offer, visit for JUCO QB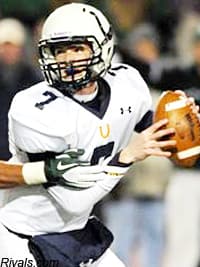 Iowa State's large group of weekend official visitors just got a little bigger with the addition of a JUCO quarterback prospect from the east.
Lackawanna redshirt freshman
Andrew Ford
, a transfer from Virginia Tech who just wrapped up his first season of JUCO ball, will be on campus taking his first official visit of the recruiting cycle.
The 6-foot-3, 211-pound quarterback said he just received an offer from Cyclone head coach Paul Rhoads yesterday, along with the opportunity to take a trip to Ames for the Oklahoma State game.
"I'll be visiting this weekend; my dad and I are going to fly out tomorrow for an official visit," said Ford.
Ford, who completed 110-of-195 passes for 1,764 yards and 23 touchdowns to just six interceptions this fall, said he got the news from Rhoads in a phone conversation.
"Our season ended last Saturday and after that we sat down with my coaches and came up with a game plan on how we wanted to attack these next few weeks with recruiting," Ford said. "Iowa State was definitely one of the schools that we brought up and talked about. I hadn't had too much contact with anybody out there; they were in contact with my offensive coordinator and head coach.
"Yesterday I got a call from my head coach saying that he got off the phone with Coach Rhoads. Then I got a call from Coach Rhoads and talked to him for around 30 minutes yesterday. We had a really good conversation and he told me where they were at and where they saw me in the plans. He offered me, said it was a big weekend out there for them and he'd love to get me on campus to experience. Everything pretty much happened yesterday."
Ford had signed with and spent a redshirt year at Virginia Tech in 2014, but opted to transfer to Lackawanna where he competed as a freshman this season.
The quarterback said he likes the way the depth chart shakes out at ISU, as well as the fact he's a mid-year transfer that will have an opportunity to participate in spring ball.
"I'll get the chance to compete right away in the spring, which is big for me," Ford said. "All I can ask for is a chance. We're going to sit down this week with the coaches and look at the offense and see how I fit into it. A lot of the things they were telling me are kind of how I see myself playing on Saturdays. How things are run is very similar to what I ran in high school. I think I'm really going to like the offense."
According to Ford, the I-State coaching staff liked a variety of aspects of his play at the quarterback position.
"Coach Rhoads said I throw a really good ball on film and can put it where I need to with touch when needed," Ford said. "I'm also very accurate. One thing he said really stood out is how I run through my progressions and don't lock onto one guy. When a play breaks down, I have the ability to tuck it and run. I can extend plays. He said my style of play fits their offense perfectly."
With mid-year signing day coming up in around a month, Ford won't have the opportunity to take too many more visits beyond this weekend.
"I've been talking to Nebraska, West Virginia, Penn State and Pittsburgh," he said. "I don't know how things are going to shake out after this first official visit. I don't have anything set up after this weekend, which is why I'm so excited to get out to Iowa State."